A joint collaboration between Bank of Khyber and Faysal Bank Limited to enable innovative digital payment services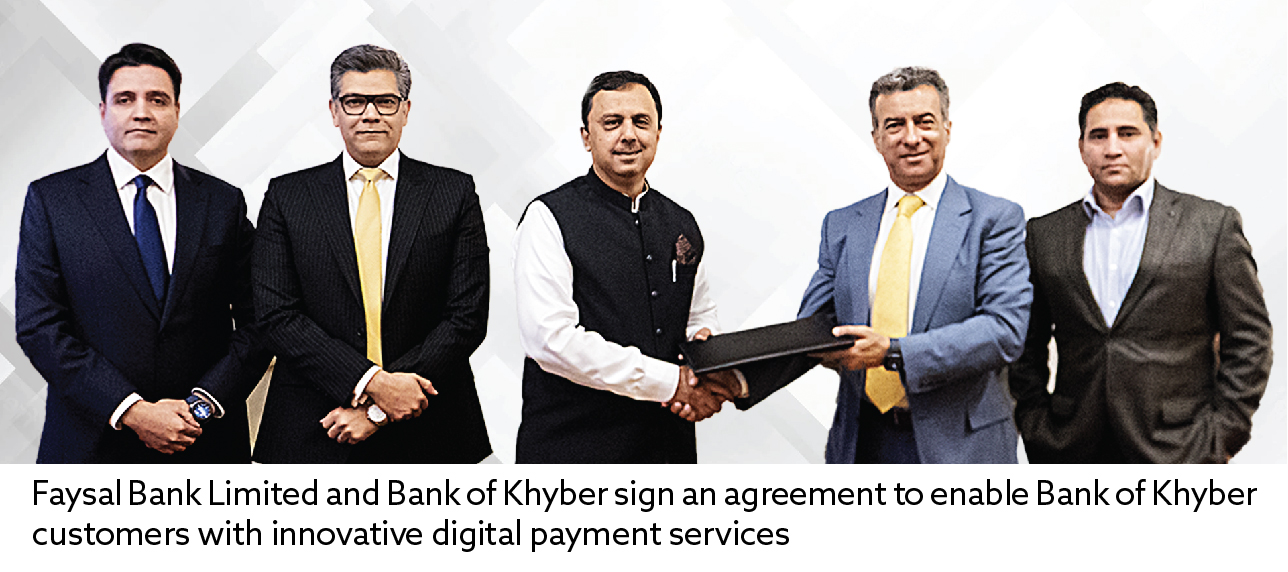 Karachi, Pakistan
Faysal Bank Limited (FBL) and Bank of Khyber (BOK) to partner together to enable Bank of Khyber customers with innovative digital payment services featuring virtual & physical debit card services along with added digital payment solutions.
Faysal Banks Fintech Express Program is focused on identifying financial institutions and aiding their customers' digital journey through innovative technologies. Through this partnership Bank of Khyber will access Faysal Bank's Fintech Express Program that is driven by creating partnerships with Banks and Fintech to further encourage State Bank of Pakistan's (SBP) financial inclusion initiative in Pakistan.

With this partnership, Bank of Khyber will leverage Faysal Bank's Fintech Express Program to accelerate the customers' digital journey and provide its customer accessibility to a host of digital solutions to aid their banking needs.

Speaking at the occasion, Mr.Ali Gulfaraz, Managing Director and CEO, BoK, said, "Bank of Khyber is committed to delivering ease, convenience, and universal acceptability to our customers to transact and make payments across all channels. The partnership between Faysal Bank and Bank of Khyber will help us strengthen the BoK digital ecosystem by onboarding international payment schemes and digital services that will provide a comprehensive range of payment solutions to our customers"
Speaking at the signing ceremony, Mr. Yousaf Hussain, CEO, FBL said, "Faysal Bank wants to be the cornerstone of the digital product revolution in Pakistan. We continue to focus on developing and strengthening ecosystem partnerships with multiple players that bring expertise and economies of scale in their respective domains. Faysal Bank's agreement with Bank of Khyber demonstrates our commitment to facilitate other banks and startups in Pakistan."
The signing ceremony held at Faysal Bank, Karachi was also attended by Mr. Amin Ur Rahman, Chief Digital Officer and Fahad Mirza, Head of Digital Ecosystems & Partnerships, Faysal Bank Limited, and Mr. Asim Bashir, Group Head Digital & Consumer Banking from Bank of Khyber.
Faysal Bank:
Faysal Bank Limited was incorporated in Pakistan on October 3rd, 1994 as a Public Limited Company under the Companies Ordinance, 1984. The Bank's shares are listed on Pakistan Stock Exchange. Faysal Bank is engaged in Commercial, Retail, Corporate and Digital Banking activities in a Shariah complaint manner which is governed by strong team of qualified Shariah scholars. Faysal Bank's footprint now spreads over more than 220+ cities via a network of over 640 Islamic branches across Pakistan.
About Bank of Khyber:
The Bank of Khyber was established in 1991 through an Act passed by the Provincial Legislative Assembly. It was awarded the status of a scheduled bank in September 1994. The Bank enjoys a unique position and stands out amidst other banks operating within Pakistan and has the privilege of being bracketed amongst the only four government banks in the country. The bank has long been associated with business and commercial circles and has been actively engaged in catering to the financial needs of all sectors. It has successfully been involved in extending funded and non-funded facilities to its customers for various business needs. Today, BOK is an "A+" rated commercial bank, operating across the country with a network of 216 branches and still expanding. The provincial government is the major stakeholder and during our 26+ years of history, the Bank has always played a vital role in the development of Khyber Pakhtunkhwa in particular and participated in the economic development of Pakistan in general.
Subscribe to News & Updates