Bank of Khyber Hosts Male Champions of Change in Peshawar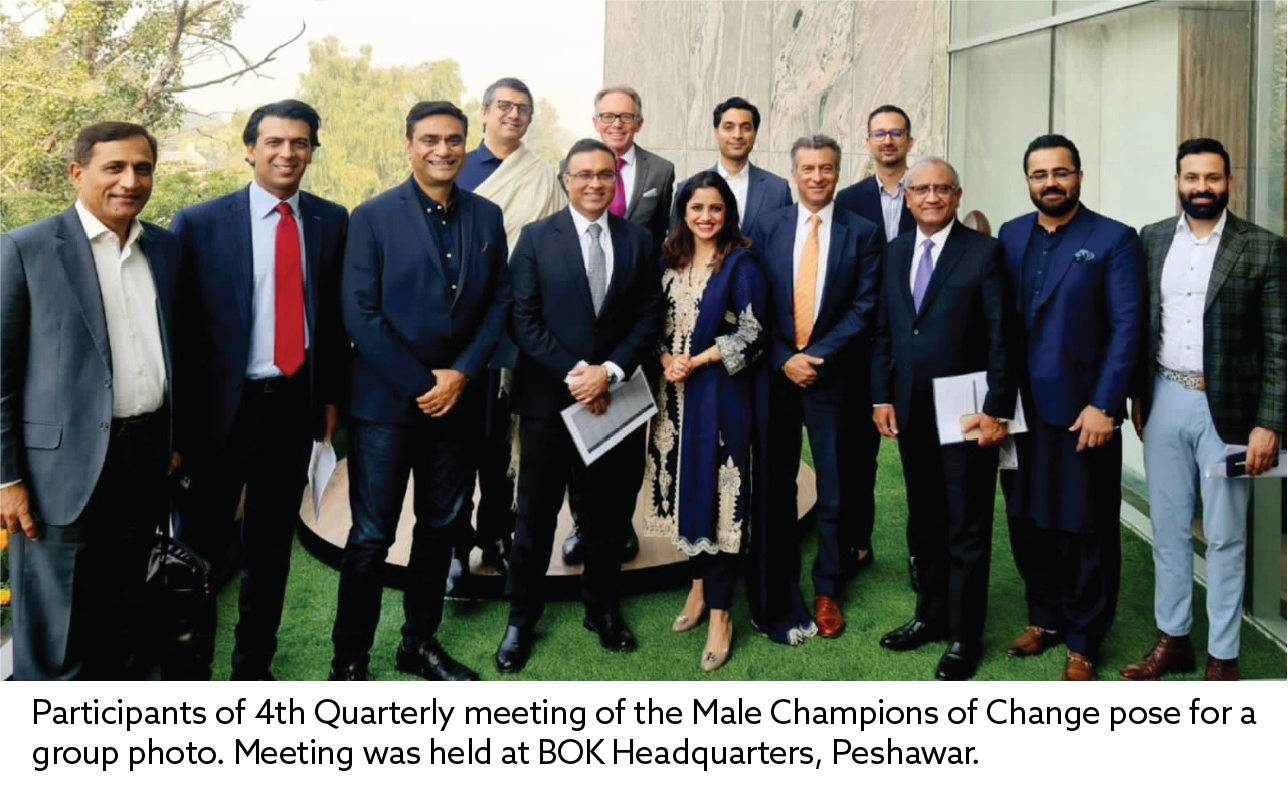 Bank of Khyber had the privilege of hosting the 4th Quarterly meeting of the Male Champions of Change at its Headquarters in Peshawar on 6th December 2022. The meeting was attended by several CEOs of leading companies, Australian High Commissioner Neil Hawkins, MCC Pakistan Convener Fiza Farhan followed by an exclusive lunch with notable dignitaries from Peshawar. 

The agenda of the meeting was to bring together senior leadership from across Pakistan to discuss policies, implementation, case studies and to form strategic alliances to address gender disproportion in the workplace. The member CEOs of the Male Champions of Change Coalition shared updated on the tangible actions they had undertaken in their organizations for empowering women and laid out commitments for the next year. The Australian Program Director of MCC Pakistan, also attend the meeting virtually bringing key global insights and expertise to the table.
The day was kicked off with a candid and informal session with Finance Minister Khyber Pakhtunkhwa, Taimur Khan Jhagra, who reinforced Government of Khyber Pakhtunkhwa's commitment for the empowerment of women, universal health insurance and facilitation for investment in Khyber Pakhtunkhwa. He further emphasized the immense potential present in Khyber Pakhtunkhwa in the form of opportunity and human capital.
Fiza Farhan, Convenor Male Champions of Change Pakistan spearheaded the session with the CEOs and the honorable guest H.E. Australian Ambassador to Pakistan Neil Hawkins, at the BoK Head Quarters in Peshawar. During this session CEOs from different organizations shared best practices and challenges they face to cultivate a culture for women empowerment, equity, and enablement. Candid conversations to spur cross-pollination of best practices amongst the member organizations to catalyze the collective journey of impact made the discussions even more meaningful and actionable.
After the session Ali Gulfaraz, CEO and Managing Director of Bank of Khyber delivered on true Pakhtun Hospitality that is unique to Khyber Pakhtunkhwa with an outdoor lunch in the scenic gardens of the Peshawar Musuem which was serenaded with sounds of the traditional rubab and complimented with the flavours of traditional pakhtun cuisine. Prominent female dignitaries from across Khyber Pakhtunkhwa such as Rakhshanda Naz, Dr Sumera Shams, Shiffa Yousafzai, Samar H Bilour, Kashmala Kakkakhel, Aneela Khalid, Kokab Batool Qureshi and Noorena Shams also attended the event making the afternoon truly spectacular.

CEOs in attendance of the session include:
Irfan Wahab Khan, CEO Telenor Pakistan
Aamir Chottani, CEO Chottani Industries
Ehsan Saya, Managing Director Daraz (Ali Baba Group)
Kashif Gaya, CEO Euronet
Harris Jamali, CEO TPL Tracker Limited
Asim Siddique, Country Manager Partner EY Ford Rhodes
Duraid Qureshi, CEO Hum Network Limited
Moin Ahmed Malik, Group CEO TCS
Qawi Naseer, General Manager Consumer Product Division
Aziz Boolani, CEO Serena Hotels
Subscribe to News & Updates